The 4 Cs that indicate the quality of a diamond

( Weight )
The carat is a unit of weight used for gemstones.
One carat is equivalent to 0.2 grams.
Not many rough stones from which large gems can be cut info a beautiful stone.
Therefore, the greater the carat number, the more scarce it is.
which increases the value.
At PROPONERE, you can choose between
8 options from 0.18 to 0.5 ct.

* Depending on the design there may be variation,
so please confirm with a salesperson.








* Illustrations not true to size.

The color of a diamond is rated on a scale of 23 options,
with D representing the highest quality colorless
and transparent diamonds, and Z representing yellow-tinged diamonds.
The more colorless and transparent a diamond, the rarer it is
and the more ideal it is considered.
At PROPONERE, you can choose from colors D-G.

This represents the degree of transparency of a diamond.
Through a 10x magnifying glass,
the grade is determined based on the presence
or absence of inclusions ( blemishes ) that block the passage of light.
The fewer inclusions,
the more transparent it is, and the greater its value.
At PROPONERE, you can choose from the
high-transparency classes of VVS1-VS2.

( Cut, Proportions )
The valuation of the cut is
the only one of the 4 Cs determined
by man-made technology.
Diamonds are cut into the ideal shape ( proportion )
for each part's angles and dimensions,
reflecting all the light that enters the diamond
and giving off a brilliant shine.
At PROPONERE, we use an "Excellent" cut for all
of our engagement rings' center stones,
and we also use an H&C ( Heart and Cupid ) setting
that creates a heart and arrow shape
with excellent symmetry.
Excellent
Very Good
Good
Fair
Poor
Ideal Cut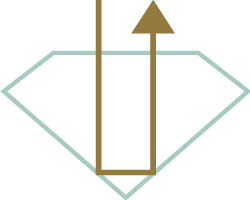 None of the light reflected is lost,
and its beauty can be seen from every angle.
Shallow Cut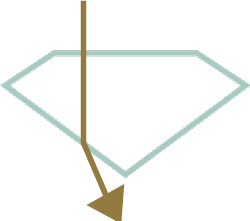 Rays of light that enter a shallowly cut stone will not reflect,
so the shine leaks out of the pavilion.
Thick cut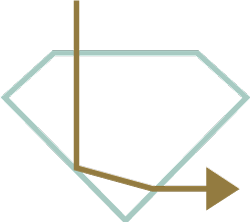 Rays of light that enter a too thickly cut stone will be reflected
at inadequate angles and light will not reflect back through the top.